There's no shortage of awesome events happening all the time in the Georgian Bay area, especially in the summertime. We've decided to pull together five events happening locally that we're super excited about and know you will be too! Anything from pop-up restaurants, to dance parties, to concerts, to cider release parties. We want to make sure you're in the know. Whether you're a local, or just visiting, make sure to plug these into your calendar so you don't miss out. Let's be real, no one likes a case of fomo.
We can't take credit for any of these cool events. We'll just be partaking in the merriment, or wishing that we were.
Sat & Sun —
Farmer's Market
Where/When: Saturdays 8-1pm Second & Pine St,
Collingwood
Saturdays 8-12:30pm -
114 8th St E,
Owen Sound
Sundays 11-2pm -
30 Mill St,
Thornbury
Who doesn't love a farmers market? Fresh food, talented artisans, open air, live music, and local, seasonal produce. Make sure you hunt down some Ironwood Coffee while you're there.
Where: Multiple locations
Ciderfest is a 10 day event with 7 stops offering cider pairings. Get your passport and head to each venue at your leisure, or arrange to hop on the bus. Some ciderstops are also offering meet the maker sessions. Check ahead of time to see when and where to meet your makers.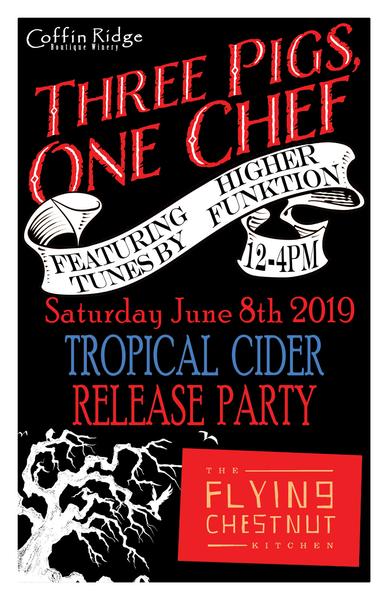 Where: Coffin Ridge Boutique Winery
An annual party, 3 pigs 1 chef is one you don't want to miss. Stunning scenery, delicious food by The Flying Chestnut, live music by Higher Funktion AND you get to be one of the first to enjoy the new Tropical Hopped Cider made by award winning cider maker, Joel Loughead.
Where: Heartwood Concert Hall
Haven't you always wanted to re-live your glory days? Get your hair did, dust off your dancing shoes and get ready to shake a tail feather.
June 19 —
Sumac + Salt Public Dinner
Where: Good Family Farms
Foraged, locally grown and farm raised food brought together for a culinary experience like no other. Join chef Joel Gray for an intimate dining experience.